Girish Mallapragada, assistant professor of marketing, Kelley School of Business (left); Radhika Cherukuru, global project manager, Cummins, Inc.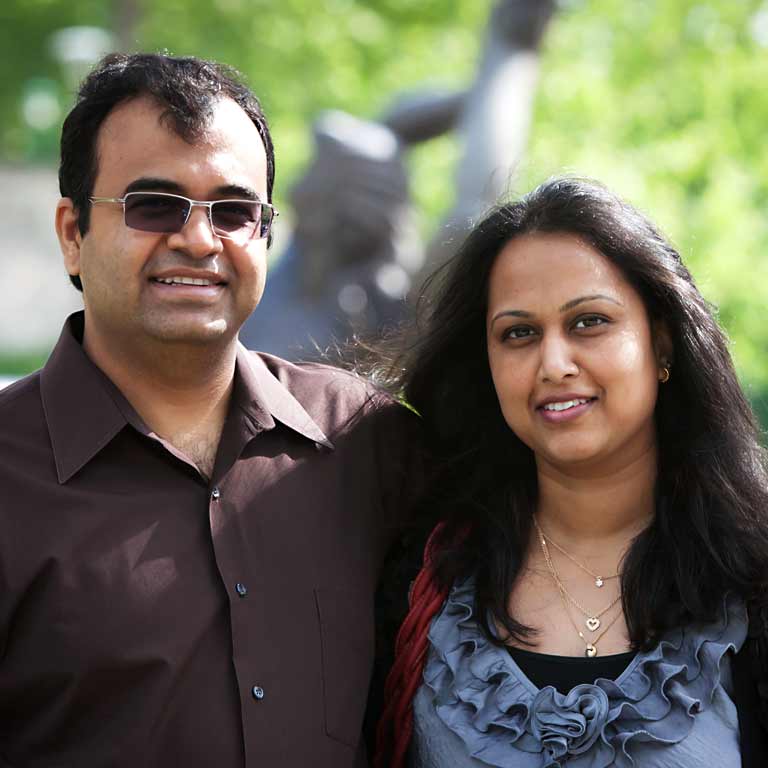 "Don't be afraid to drive."
Job opportunities opened up when new faculty member Girish Mallapragada's wife Radhika expanded her job search to include environs beyond Bloomington.
Girish joined Kelley in the fall of 2011. Two months after the couple arrived in Indiana, Radhika found a position in the IT department of Cummins, Inc.—the global manufacturer of engines and related technologies located in Columbus.
In his third year at the University of North Carolina at Chapel Hill, Girish decided to consider other options and applied for an open position at IU, one of three applications he sent out. "I wasn't serious at first," he says. It was worth investigating, though, because he already had a fondness for the town and campus, having attended a conference here as a graduate student. He also had a Big Ten connection through his Ph.D. from Penn State.
Once he visited the department and learned more about it, he got serious. "IU just worked out perfect," says Girish, who was especially impressed with the size of the marketing department and the diversity of research interests among its faculty. With the added benefit of Radhika's sister three hours away in Cincinnati, the couple decided to relocate.
Once Girish accepted his position, Kelley put Radhika in touch with the Dual Career Network in the Office of the Vice Provost for Faculty and Academic Affairs. Bobbi Davila, who was then the director, connected her with leads and resources, including profiles of the bigger employers in Bloomington. The informational binder Kelley provides to all new hires also proved very helpful. In addition, Radhika researched the job market herself, discovering LinkedIn to be a great source of options because it included positions often not listed on job finder sites.
Despite the assistance, Radhika found few opportunities in Bloomington—the economy hadn't yet rebounded and the small size of the city limited jobs in her area of expertise. "Bloomington was much smaller than we thought it was," says Girish. So they expanded the search to surrounding areas and decided to make their home in another community, if necessary.
It was the right decision, and one Girish and Radhika strongly recommend to other couples in their situation. "Don't be afraid to drive," Radhika advises. Once she had accepted the job at Cummins, the two chose Greenwood as the best location to live. Radhika calls it "especially good for a typical dual career situation": good schools and daycare options, shopping, and easy access to commuter routes to Bloomington, Columbus, and Indianapolis. The central location also offers Radhiki future career flexibility without the need to relocate.
Cummins was also a good choice for a dual career spouse with a family. The couple have young children, and Cummins readily accommodated Radhika's request to work from home a few days a week.
While it was a tough decision not to live in Bloomington—Girish wishes he could participate more in campus events—the couple make time for visits, and don't mind their commutes, each 45 minutes of an easy mix of city and highway driving. "Some of my friends at urban schools have longer commutes," Girish says with a chuckle.